Comfort Solutions offers full service for air conditioners, heating systems, furnaces, and hot water heaters
You want a full service HVAC contractor with experience.
NEW! Schedule an appointment for service online.
Comfort Solutions has that experience and can provide the timely repair of your air conditioning system or furnace system. Comfort Solutions also works on boiler systems and hot water heaters. Our service technicians answer the phone 24 hours per day and will provide the quality service of your home heating and cooling systems that you are looking for. Comfort Solutions is an authorized dealer for Lennox, A.O. Smith, and Aprilaire. Comfort Solutions can also service most makes of air conditioners, furnaces, water heaters and boilers.
Call us at 319-854-6945 for emergency air conditioning repairs or furnace repairs. To help prevent problems in the future, call us to set up a normal maintenance checkup. We are here to help keep your HVAC system running smoothly and efficiently.
If you are located in Cedar Rapids, Marion, Coralville, Iowa City or one of the surrounding communities, Comfort Solutions would like to be your heating and air conditioning contractor. Comfort Solutions services the following Eastern Iowa communities:
Service Area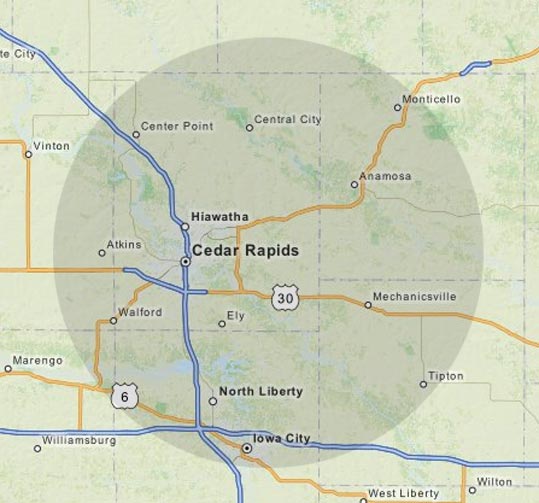 Anamosa, IA
52205
Cedar Rapids, IA
52401, 52411, 52402,
52409, 52497, 52403,
52407, 52410, 52499,
52406, 52405, 52498,
52408, 52404

Center Point, IA
52213
Central City, IA
52214
Coggon, IA
52218
Coralville, IA
52241
Ely, IA
52227
Fairfax, IA
52228
Hiawatha, IA
52233
Iowa City, IA
52240, 52242, 52243,
52244, 52245, 52246
Lisbon, IA
52253
Manchester, IA
52057
Marion, IA
52302
Mechanicsville, IA
52306
Monticello, IA
52310
Mt. Vernon, IA
52314
North Liberty, IA
52317
Robins, IA
52328
Shellsburg, IA
52332
Solon, IA
52333
Springville, IA
52336
Swisher, IA
52338
Vinton, IA
52349
We are professionals and take our opportunity to help you with your heating and cooling needs seriously. We will treat you with respect and help you decide the best course of resolution for your needs.
Customer testimonials:

"Thank you so much for getting the furnace in as soon as you did. Your team of Rod, Chris, Sean & Kory were great..can't say enough good things about them..I would recommend Comfort Solutions to anyone."

—Wayne, homeowner

"Thank you for the work your crew did installing the A/C and furnace. We are so grateful for your guidance in selecting the proper A/C and furnace units. The two guys that installed our equipment were very professional and went about their business in an unobtrusive manner. The install went very smoothly and the one thing that shocked me the most was that the furnace room is cleaner than when they arrived. Thank you again."

—Jim Hall, homeowner